Hello and thanks for stopping by at greene edition today to look at the 6×6 Album Project 31 Days Of January. I have a surprise for you at the end of the post. You already know that greene edition is about simple memory keeping. Simple to me is mainly a simple way of executing memory keeping. A way to enable memory keeping by simplifying the process. Today I am showing you some more simple memory keeping, the final result of my 6×6 Album Project 31 Days Of January. Ta da:
Simple Memory Keeping: 6×6 Album Project 31 Days Of January.
Have you been to the project section? It is a work in progress, admittedly. I have added the 6×6 Album Project 31 Days Of January to the project section. Please check it out and let me know your thoughts.
Looking through the scrapbooks or however you want to call my journals of digital scrapbooking and hybrid projects I have decided to go for more of a uniform look this January 2018. The uniformity of the pages made it really easy for me to keep this going the way I had initially intended. In the beginning I was struggling a bit to find my ride but from day 11 on I had it down. Lol, that's just me. Takes a bit. Since perfectionism is the most powerful enemy of progress I can look into February 2018 knowing that heavy fonts and dark patterns won't always help this 6×6 Album Project 31 Days Of January. I did want to document this 'finding' process and to show  the "imperfect" pages to let you look behind the scenes.
Progress Before Perfection
Things are not perfect at greene edition as you already know,  things are progressing tho. And that is what counts. Progress. Not perfectionism.  Two minutes to go back into the file and adjust the look. I much rather have an imperfect page than none. Can I change a page? Yes. Can I document my day today as I can document it tomorrow or tomorrow versus next month? Big fat no. The sooner the better. We might ponder on what happened and reflect at a later time but really I find it much easier to sort through pages than through my mental notes. Please check out the page of January 3rd in the project section where I changed the look of the page within that 2 minute time frame.
Simple Memory Keeping with the 6×6 Album Project 31 Days Of January
Simple Memory Keeping has its emphasis on  k e e p i n g. Successful keeping is the most important aspect to me. Have you ever painted with soft pastels? It is a bit like that. Simple memory keeping that is. It is very direct and not afraid of white space. There is no brush  between your hand and the pure color of the pastel which has an incredible amount of pigment. So if you want to try a more automatic way of documenting I do recommend this. It helped me a lot. This method made completing multiple daily pages an absolute breeze.  When I had more than one photo for a particular day that I did want to put into the album I just added an entire page, so for some days I have more than one page. Great stuff. Additionally you could also opt for facing photo pages and omit or again overlay the text entirely, like so:
.
Thank You For Your Input
Finally, let me say thank you again for your support and constructive way of dealing with hick-ups here at greeene edition. Here is the template again. Enjoy! This time, click the image to download. And do not forget to sub to the newsletter here. You can see and read about what is in the pipe for greene edition newsletter subscribers here. This 6×6 project has not seen its end as to yet. There will be a set for February and March, so greene edition has got you covered if you want to try this automatic approach to simple memory keeping with a variety of options. I will also send out a set of vellums so you can play around.  Would you prefer pages instead of stickers? I defs would go for stickers instead of premade pages but  can see why they would come in handy. If I have time I can wrap up both, the stickers and the pages.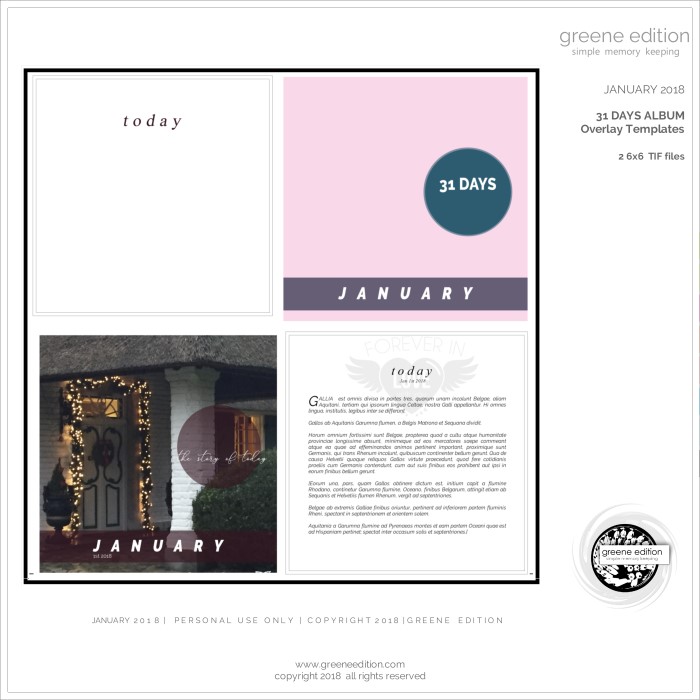 Kayl's Layout with the 6×6  31 Days Album
I saved the best for last tho. Here it is: Many thanks to the wonderful Kayl Turesson for this adorable page with the 6×6 31 Days Album. It really is called 31 Days Album, yes,  because you can use it for any month or project and that is another qualifier for simple memory keeping. Versatility. Let's see if we can come up with more. It needs to be fast. How long do you spend editing a pic? I can go into days. Not feasible. So many aspects, so little time. So I went for the radical approach. I loved it. And I so do love Kayl's page. She has beautifully placed the precious photos of Kinsley James' first twelve months into a classy grid and used contrasting shades of rose to eyecatchingly display the anchoring title in a whimsical font. Perfect.
Thanks for stopping by at greene edition.
Cheers
Bina