Hello and thanks for stopping by at greene edition today for the Here and Now Alpha Album Templates. Today a new challenge series at PixelScrapper is taking off. The All About ABC Challenge. Click the link below to find out about this new, bi-monthly challenge and grab the templates with the code at the bottom of the post.. Find the challenge here.
Here and Now Alpha Album Templates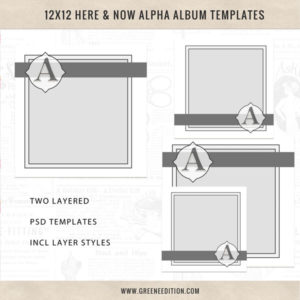 This challenge aims at creating an A-Z  All About Album for you within the frame of 52 weeks. And I made the Here and Now Alpha Album Templates for that challenge.
So once you decide on your album topic and title, you just add one or more new layouts every two weeks and find your own match starting with that letter. So this challenge will run from A to Z and offer 1 letter challenge every 2 weeks. The way we do this is keeping both challenges live thru the entire month so that you do not need to stress about 2 smaller time slots. There will be just one. The second challenge starting in the middle of the month will only be live for 2 weeks. But since the next challenge will definitely be the letter B and will start in two weeks you could also plan or start on more letters now and just post them when the challenges come up.
I hope to include many fantastic ideas from the Pixel Scrapper challenge ideas thread this way. I like albums – see a few of mine here – and after sticking with me for a whole year of the Month In Review Challenges throughout 2019/2020 I want to say thank you by enabling more album making. Find the current October 2020 Month In Review Challenge here.
Pick your own alpha match and start the first round with the letter A. Feel free to use any size, hybrid or digital. Find great ABC lists here.
If you would like to make an album with a consistent look throughout because you dig uniformity like I do, I have a free template set with code 2A6ND44B
Put any layout in the big center space and apply the same layer styles on the other layers throughout the entire album to get a pretty consistent look even tho your singular pages might be quite different.
Simple Memory Keeping with the 6×6 Album 31 Days
February 2018 6×6 Template Freebie