Hello and thanks for stopping by at greene edition! Welcome to the Enjoy Each Moment Free Scrapbooking Kit, I have been so busy I did not even notice January totally passing me by. Today the blog train is live again. Please do yourself a favor and check out the February 2018 Pixel Scrapper Blog Train here, there are so many absolutely fabulous creations this month, it is unreal. We have a wonderful swatch this month. My contribution is the Enjoy Each Moment Free Scrapbooking Kit. Let me just say something about the swatches we are looking at in 2018. Brace yourselves coz we are looking at the unusual… I love the unusual color combinations that we are seeing more and more in all sorts of designs for 2018. And the same is true for the PSBT blog trains. Lovely colors are on their way. Please do yourself another favor and consider joining one of the next PSBT blog trains one way or the other. The best things in life are free. Totes.
Enjoy Each Moment Free Scrapbooking Kit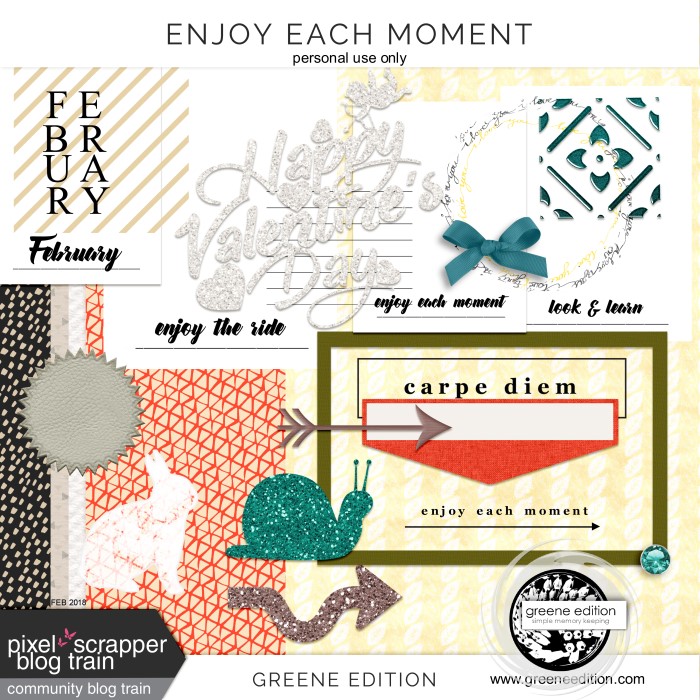 You can download the kit at the end of the post. Many thanks to Kayl Turresson for sharing a fantastic page here:
Enjoy Each Moment
Here are some more layouts with the Enjoy Each Moment free srapbooking kit::
Thank You
As always, I would love to see what you do with the Enjoy Each Moment Free Scrapbooking Kit 🙂   In this context, I want to thank you all so much for your continued support by visiting the site and also by engaging with me directly and writing to me about things that do not work the way they should when they navigate the site or try to reset their password. Sometimes there are things that I did not see coming and am ever so grateful for your input and help. Please accept my apologies for any inconveniences you run into here. Let me tell you that I am totally approachable and absolutely thrilled when you contact me! I love it. And I love to make this site a better, smoother experience for you.
Coming Up Next
Please also consider signing up for the greene edition newsletter where you can expect good news in form of at least one exclusive monthly freebie. You can sign up to the greene edition newsletter here or by checking the box in the sidebar. This month I have a special photo surprise for you. If you sign up until the 13th of February you will receive 10 love-themed photographs for editorial and commercial use. No re-sale rights though.
There will also be a new overlay for February exclusively for subscribers to continue this here project and some lovey-dovey, girly-glittery stickers.  So stay tuned. Here is a layout with the February overlays, for a 6×6 album.  I have received some mails about the January template here and I have put them up  at the end of this post.
Thanks again for stopping by and enjoy the  Enjoy Each Moment Free Scrapbooking Kit and all the other blog train stops.
Cheers,
Bina