Hello and thanks for stopping by at greene edition today. So I have a 6×6  Template Freebie for you. Please see the link at the end of this post. The 6×6 Template Freebie is all in the tradition of its January predecessor here.
How have you spent Valentine's Day? Did you get a  present? I did! And jacket potatoes. So really two presents. Yet let me show off my Valentine's present to you…. The perfect day.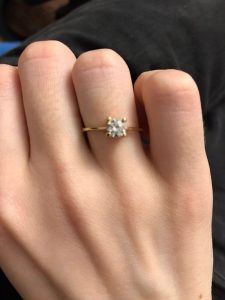 As a matter of fact February flew by. I am enjoying the added daylight as the month is coming to an end.
Layouts with Today's 6×6 Template Freebie
Let me share some layouts with today's 6×6 template freebie now.
Seems like I sure was not too unhappy about how the January 6×6 book turned out.
I had promised you the February overlay and here it is. I have also made a 6×6 overlay template for March and some layouts.
So you can see that I have two more 6×6 overlay templates in the pipe for you, if you stay tuned 🙂
Please check out the January project here and here. And please do not forget to sign up for the greene edition newsletter here if you haven't already done so. Furthermore, I have some vellums ready that I am trying to send out before the end of February to bring this month of loving freebies into March.
Coming Up Next at greene edition – simple memory keeping
In March greene edition is also contributing to the PS blog train again. Please check out the PSBT March 2018 and please consider participating one way or the other. I am always looking forward to the PSBT each month because it is always jam packed with incredible designs from all walks of styles. Contributing designers are extremely generous and many contributors have  blogs with excellent freebies.  And PS members have voted on the  April, May and June 2018  blog train swatches already and there are some beautiful colors coming our blog train way. No abstractions! As in none. Here is a little sneak peek of my PSBT April 2018 contribution. Finally, stay tuned for previews of March which is just around the corner.
I love how Pixel Scrapper members who do not share a download still contribute to the blog train by discussing colors, themes and ideas. Join this discussion or just check it out.
Thanks for stopping by at greene edition and enjoy your download.