1st anniversary. Hello and thanks for stopping by at greene edition today. October is celebration month here at greene edition because it is greene edition's 1st anniversary.
Thank you to Kayl who has made fantastic contributions and Alli for her great pages and Frida for all her unique input and for all your wonderful support, your business, your encouragement, your messages, your patience and your kindness.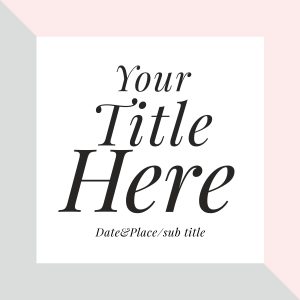 Talking about patience, I know that the site is slow sometimes and that may have a number of reasons. I am constantly looking to improve the experience here at greeene edition. Please contact me if you encounter issues here with your account or your overall experience here. I follow through each single ticket and I have resolved all issues so far which doesn't mean there won't be any more in the future. New challenges, don't we just love them?
1st Anniversary
What better way to celebrate than with a freebie or two?  I have made a whole 12×12″ 30 page template album for you which you can download for free when you sign up for the newsletter.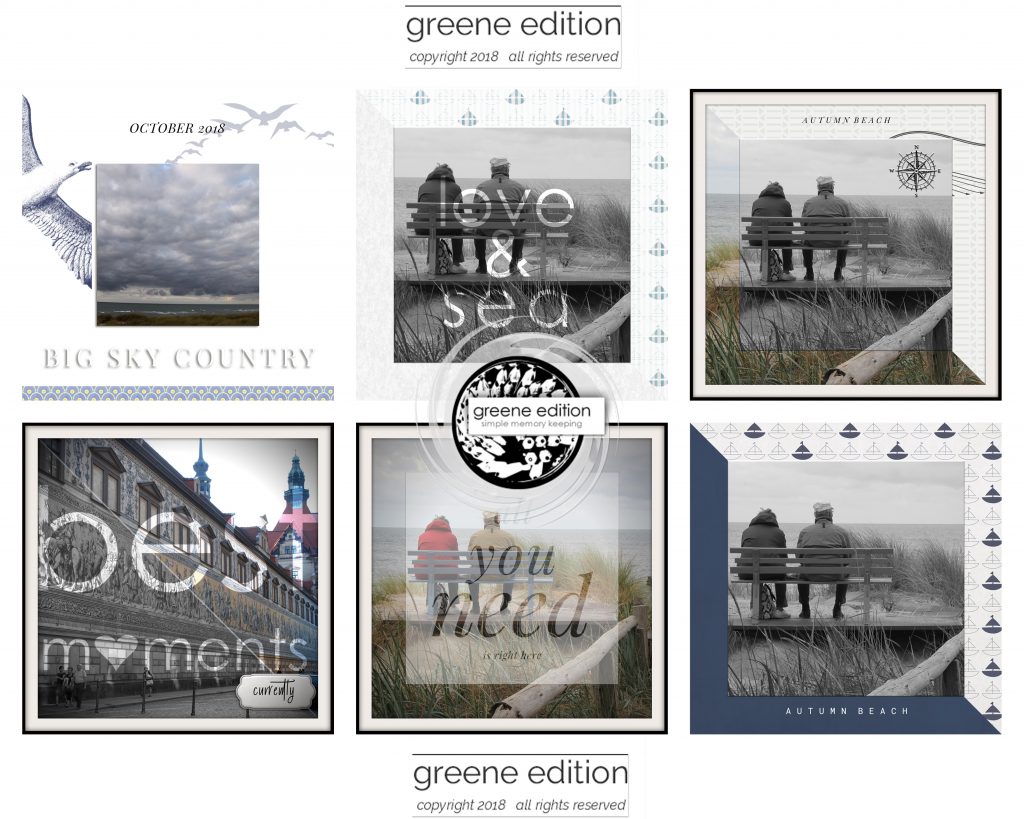 The album is called The Gallery Album and is made for 5 minute pages. Each template comes complete with layer styles so that you will have a bunch of styles that you can use for other projects, too. It includes a paper pack and some ellies as well. But you can make those 5 minute pages, 10 or 15 minute pages if you like to add more embellishments and layers, why not? There is a pretty interesting thread on the topic of Quick Scrapping going at Pixel Scrapper at the moment, read it here if you like. You know that I am a Pixel Scrapper, huh?
The Gallery Album
Let's focus on scrapbooking during this 1st Anniversay  month at greene edition. I have put together some pages with the first template to show you 6 different ways with one template. Yes, 6. Six ways with one pic and one template. Lookie:
Layouts by Bina Greene with Gallery Album Template No 1 Of course you could also fill the photo layer with a collage  which you could fix in google photos or any other collage app, so that you only have one photo layer. I am a big fan of both: One photo layer layouts and collages. The extremely photo centered pages of The Gallery Album are perfect for spreads. Here is what this looks like: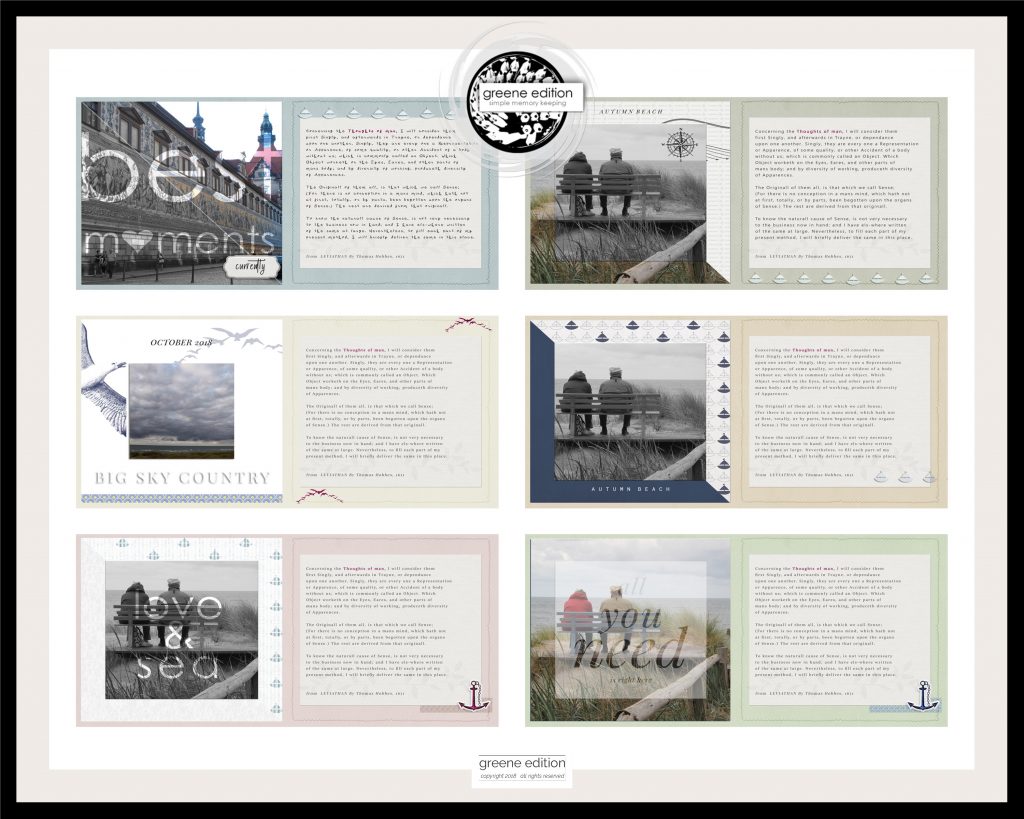 Grab the first template page of The Gallery Album  here. Thanks for stopping by at greene edition to celebrate our 1st aniversary.
Fun Pattern Clash in a Unique Layout Design
Flower Power Free Page Layout Kit
February 2018 6×6 Template Freebie
Simple Memory Keeping with the 6×6 Album 31 Days
And listen to Reina and Toni maybe?