Three Elements Five Minutes
Hello and thanks for stopping by at greene edition today. Today I want to share a layout with you. Have you been to the Three Elements & Five Minutes section yet? The layout I am showing here today is a representation of this Three Elements & Five Minutes section where I share quick hybrid projects that I make with a maximum of 3 elements and within a five minute timeframe.  And those 5 minutes go into putting the page together and saving it. Printing and cutting is on extra time.
Simple Memory Keeping
You already know that greene edition is about simple memory keeping.   I am interested in keeping my photo journaling going on a day to day basis. I journal my photos mostly each day. And I am kind of compulsive about printing them and gluing them into a book or printing a page including the pic and gluing that page into a book. As a result this method of photo journaling enables me to go back to my pics whenever I want.  So tomorrow or in 5 years, and I can make more composed layouts for photobooks or scrapbook at my heart's delight.
Three Elements Five Minutes
Kayl who has contributed fantastic examples of simple memory keeping to greene edition now has her beautiful baby boy, Alexander. All my best wishes are guaranteed for Alexander and his parents! Special love to Kayl.  Alexander is beyond cute and I am absolutely in love with his smile. March 4th was Alexander's first birthday, first month birthday that is. So I sent him a card to say how much I care for him since I have been witnessing a part of  his journey into this world from afar admittedly and from Alexander's mother's perspective exclusively, but no less emphatically.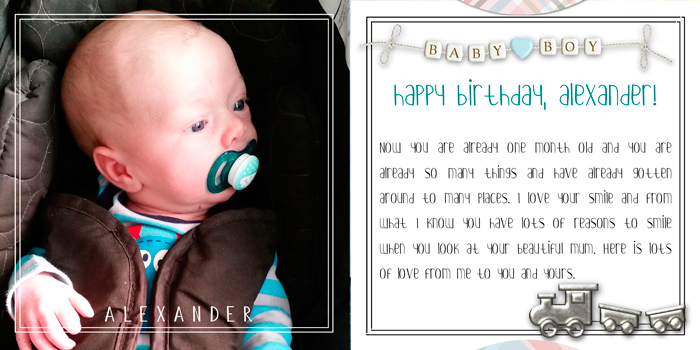 First of all many thanks to Kayl Turesson who has sent me this lovely photo. I used the 31 Days Album  6×6 overlay templates freebie for this three elements & five minutes layout. If you want to see the 31 Days Album Project in detail you can check it out at the    31 Days of January Project gallery. I also used 3 supplies by three different designers at Pixel Scrapper for this three elements & five minutes layout. Please see the credits below and their Pixel Scrapper item numbers included for ease of access.
Happy Birthday, Alexander!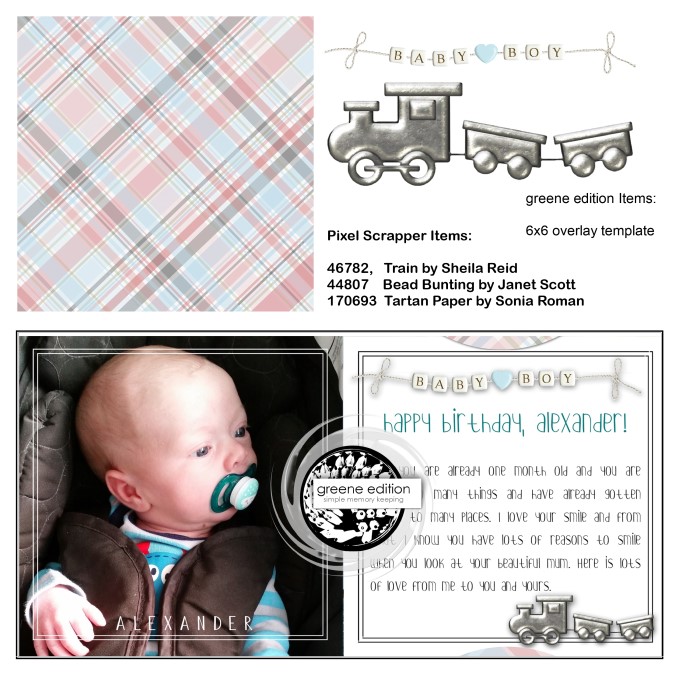 Thanks for stopping by at greene edition today. And if you want you can dl the template and try this approach of making layouts in five minutes with three elements only.  If you are looking for good tunes, check out Josh or Reina or these guys .
Cheers
Bina