Treasured Pocket Cards Freebie
Hello and thanks for stopping by at greene edition today! Happy New Year! I hope you had a great start into 2018 and have had a great time during the holidays. Have you come from Pixel Scrapper? The monthly PS blog train sure keeps the spirit of Christmas alive  each month of the year, it has so many great presents! I would be happy if you accepted my little contribution: the Treasured Pocket Cards Freebie . Please see the entire Pixel Scrapper Blog Train here. There are so many great designs again. If you would like to download my part you can do so at the bottom of the post.
Pleae also consider subbing to the greene edition newsletter. You can do so by checking the side bar or by clicking here. As a subscriber you can expect a special newsletter freebie each month. Next month I am planning on releasing some photos for commercial and editorial use for my newsletter subscribers. So stay tuned.  If you sub to my newsletter you will get two presents in January 2018: The Travel Album for Midori Traveller Notebooks as a sign up freebie  and this new overlay  frame set that I like a lot because it makes things so easy. Snap and go. Dont't like the sentiment's placement? Well, you can change it, resize it, color it, delete it or exchange it. I would really love to see what you did with them. The overlay frame set will be sent out to all subscribers on the 15th of January 2018, Australian Eastern Standard Time,  which is GMT + 10 hours year around, so if you subscribe until the 13th you should receive it.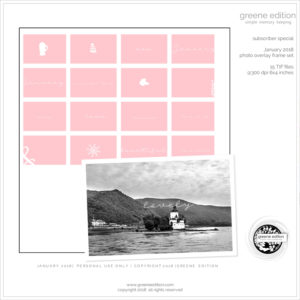 Treasured Pocket Cards Freebie Layouts
But let's go back to this month's blog train. Kayl has made such a beautiful layout with the little cards, it is an adorable page for which she has also used her own, beautiful elements which again are part of Kayl's blog train contribution.  Here is a page with Kayl's designs for the blog train:
Many thanks to Kayl Turesson for this beautiful layout!
Thanks again for stopping by and enjoy! After January 2018 you will find this freebie in the shop.