Hello and welcome to the 5 Minute Page. Today I have a pdf download for you. It is  made up of the 4 steps to follow along for finishing a layout in 5 minutes.   After 5 minutes you get a memory page. Memory pages have great advantages because they capture the essence of Jack , the pics and text. They can esily be the basis of full blown scrapbook pages. If you are heavy on journaling like myself, you do like the way text actually looks, like myself, then you might feel that a memory page is what you need in most cases. PositivePsychology suggests 83 benefits of journaling.
5 Minute Page
5 minute pages are perfect preparations for larger projects and can act as the backbone of a more elaborate album. If you are a visual frugalist like myself and gets kicks out of a a certain extend of reduction , then well then you might just be happy with an album just made up of memory pages.
It is a free download and you can just grab it in the store. It is a about  how I usually go about memory keeping. It is rather concise and not very wordy at all.
So don't be put off by the term book.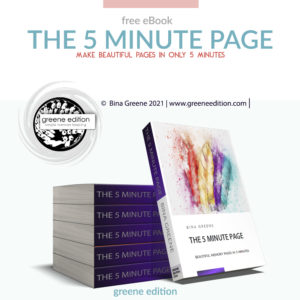 3