Album Maker 6×8″ 25 Days
Hello and thanks for stopping by at greene edition today. 25 Days of Christmas are full on at greene edition. Today I have a little freebie for you. I will pull the link at the end of December. The greene edition Album Maker at 6×8″ is just one little TIF file with many layers and dozens of layout options. It thrives on making layers invisible and is perfect for your 25 Days of Christmas project or any other simple memory keeping project. I am mostly a photo scrapper – I am desperate to tell the story, jot down the 5 W's and write up a short paragraph of prose to tell what went down here or there, however it comes out then is just fine for me and serves my primary goal: Get it on paper. I usually print the page and glue it in some sort of book. Perfection is the biggest enemy of progress. But progress I want with memory keeping. I really like to see a page in a timely fashion.   Coming back to the album maker: It  really is a neat little companion. You can use it pretty much all year round for any sort of memory keeping. I love grids as you know. Here comes another one. The dl link is at the bottom of the post.
Album Maker 6×8″ 25 Days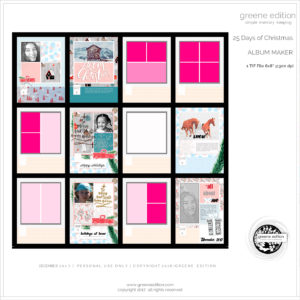 Get the greene edition Album Maker at 6×8″ now by downloading below and also sign up for the newsletter until December 15th to get the kit featured in the preview.
Album Maker layouts by Kayl Turesson
Special thanks to Kayl Turesson for sharing her beautiful layouts with the 6×8″ album maker. Kayl used the  Baby On Board Bundle by Melo Vrijhof  for the first page and the upcoming newsletter kit Merry Christmas by greene edition  on her second page. You can see more of Kayl's layouts here and more of her designs here.
Download the templates here.