Best Wishes Mini Kit
Best Wishes Mini Kit
Hello and thanks for stopping by at greene edition today. Today I have a new freebie for you. I have made a mini kit called Best Wishes. Best Wishes has a winter theme with a Christmas twist and would be great for any 25 days of Christmas project. I have prepared a template for the great 25 DAYS project. But it can also be used for any other project. It is completely in the tradition of the greene edition Pixel Scrapper Baby Book Maker that thrives on making layers invisible. So please stay tuned for that baby. I am also wrapping up more of my frames.
I want to thank you all so much for your lovely messages, comments and emails, they mean a lot to me! Free thru 2017.
Freebie: Best Wishes Mini Kit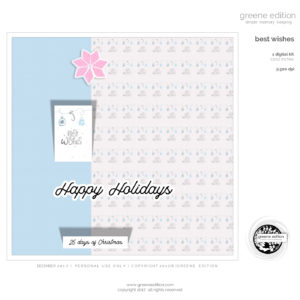 Best Wishes follows the PSBT December 2017 swatch. Please come back for the PSBT December 2017. I am also wrapping up a Christmas kit with the same swatch that I will send out to all of my newsletter subscribers. If you would like to receive the greene edition newsletter Christmas kit, please subscribe to my newsletter here. As a newsletter subscriber you can expect special freebies once or twice a month. greene edition is into delivering you some good news. You can download Best Wishes in the store.