2018 Calendar Frames Freebie
Hello and thanks for stopping by at greene edition today! I am glad you are visiting because the 2018 Calendar Frames Freebie is ready to download for my newsletter subscribers. I want to thank you all so much for subscribing. My newsletter subscribers will receive this 2018 Calendar Frames Freebie with the next newsletter. The 2018 Calendar Frames Freebie will not be available as a freebie in the store.  The calendar cards are as you know them from previous years. I have received your kind messages about the cards and I want to take this opportunity to thank you very much for contacting me and letting me know your thoughts. I have changed the cards ever so slightly and hope you will find them useful.
2018 Calendar Frames Freebie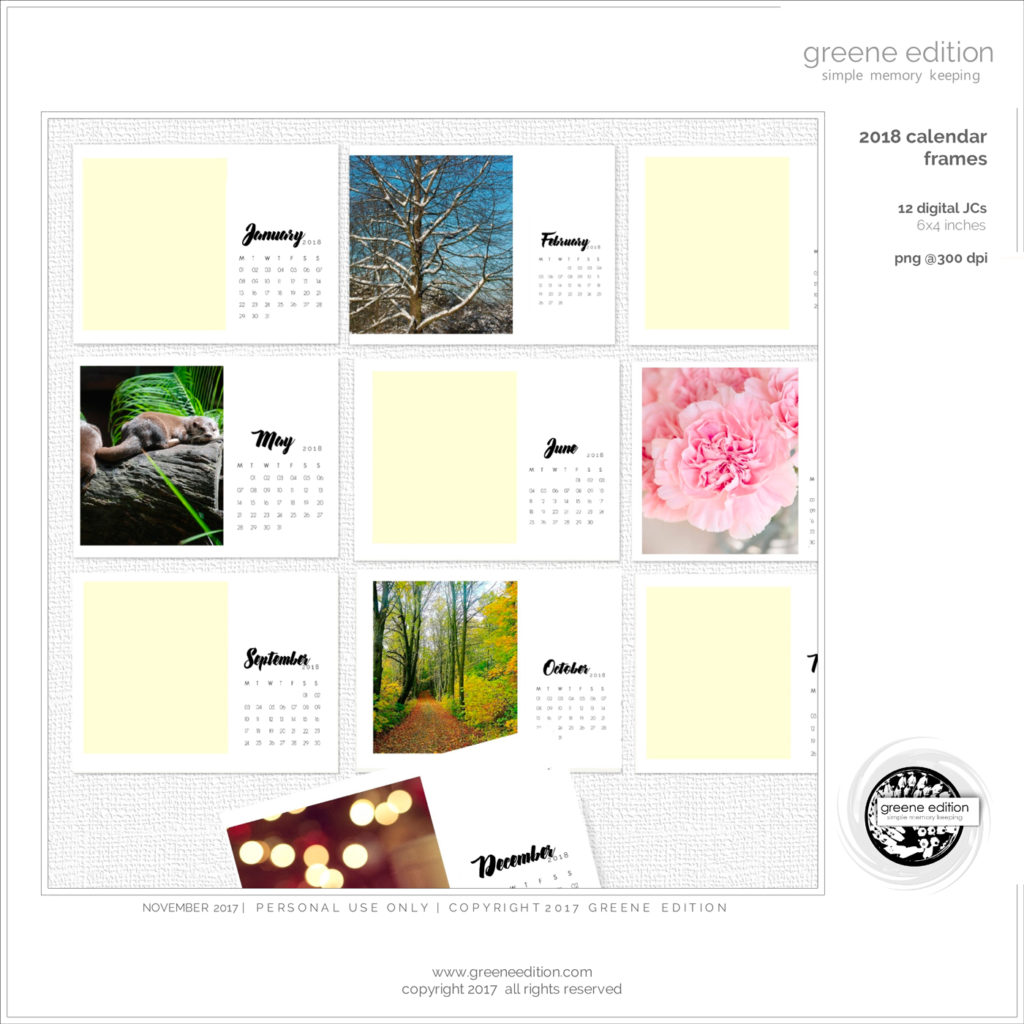 2018 Calendar Frames Subscriber Freebie
I love them because they are so versatile. I have used calendar frames in a number of projects and I have also printed them. They go great with brushes or stickers or your fave papers if you want more color. You can take a look at the store and find a number of paper packs that would be great for any month of the year. I personally love a little strip of paper at the edge of the page for the these calendar frames. Do you want any color at all?  The 2018 calendar Frames Freebie is black and white for 2 reasons. One is that it is easy to recolor, the other is that photos usually are pretty colorful as they are and white can give a wonderful balance to pics, something that no other hue quite delivers. I am currently making a litte extension set for this 2018 Calendar Frames Freebie for my subscribers. The extension set will be available before Thanksgiving, so please stay tuned. There are some goodies in the pipe for you.
Here is the good news: If you have not subscribed you can do so now until November 15th. You can subscribe to the greene edition newsletter by clicking here or by looking at the box in the sidebar. If you subscribe to my newsletter until November 15h 2017 you will receive this calendar set for free with the next newsletter!  No abstractions, greene edition wants to bring you some good news every now and then in the form of a freebie or a project. If you are into that you have come to the right place. Be my guest. I am happy to have you! Please also check out the November 2017 Blog Train Freebie.